Violins 4 Joy – "Kids changing the world one smile at a time"– is the practice of teaching children to live with a joy, curiosity and enthusiasm that changes the world – for themselves and others.
Mission
Through violin performance classes our students develop to their fullest potential as creative, confident and collaborative leaders:
Academically, Socially, Spiritually.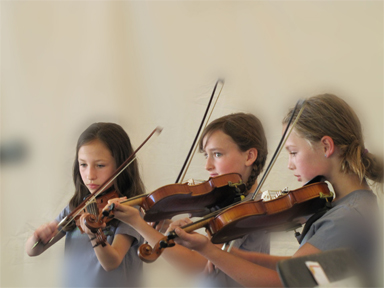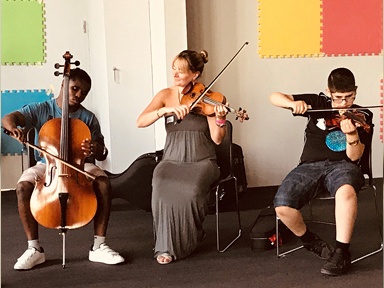 Vision
By both creating and supporting a culture of kids helping kids via purposeful violin performance, joy-filled leadership and kindness, it is our intent that each and every kid we encounter leaves us confident that the world needs his/her unique gifts.
We know that our confident graduates will seek opportunities to further use their intellectual, artistic and moral gifts, leadership skills and kindness to change the world, one smile at a time.
Since 1991, this program has been implemented in five elementary schools and two colleges. Dr. Penny alone has personally taught upwards of 400 students, and impacted hundreds more.
As an elementary school principal for the past 14 years and a teacher for considerably longer, Dr. Penny knows that this approach works.
This approach has proven to be a successful change agent for school culture with regards to academic scores, social development and peer relationships, and leadership attitudes.

Violins 4 Joy is an approach that can make a real difference for all children, especially for:
– Children who are seeking to fine-tune their leadership potential.
– School communities seeking to increase academic scores.
– School communities seeking to increase student engagement.
Our Unique Approach
We consider this approach to be the Mother Tongue Method of Leadership. Inspired by Dr. Shinichi Suzuki's philosophy of learning to play the violin, our approach:
Emphasizes experience before theory.

Provides training to develop exceptional teachers who by their example, both on and off stage, model all learning and fundamental attributes as leaders with joy, kindness and respect.

Offers an insight into how to structure curriculum that successfully:

Teaches children violin skills, ranging from complete beginner to advanced, including repertoire ranging from sacred, contemporary, classical and folk.

Is relevant to children of all ages.

Celebrates small successes.

Incorporates many opportunities for praise and recognition.

Includes corrective teaching moments.

Depends on mindful repetition.

Teaches them to be energetic and to bring joy consciously to others by what they say, do and think.

Encourages students to be decisive with kindness and thoughtfulness.

Maximizes group learning opportunities while offering many solo opportunities.

Is based on current recognized brain research and leadership theories, and

Never ceases to keep the student progressing towards his/her best version of self.

Believes "heart-to-heart" communication is fundamental to leadership.

Knows that all children are brilliant and therefore can learn to be leaders with joy and kindness!

Respects all budgetary considerations., long-term and short-term.

People to know
Anne Penny, Ph. D.
Since 1991, Dr. Penny has been teaching violin to children during which she has founded 5 school-based violin programs and 2 college-based programs, personally instructing several hundred children and impacting hundreds more ever since. Her doctoral research reflected an ongoing interest regarding how children learn best – specifically the benefits of direct and indirect instructional methods. Together with that knowledge, extensive training in Suzuki Talent Education, additional degrees in administrative leadership, and life experience, she has created the approach that is unique to Violins 4 Joy.
If you are seeking to add a sparkle to your current culture, give us a call. We can help you develop your community in creative, affordable and sustainable ways.